Cheese Popovers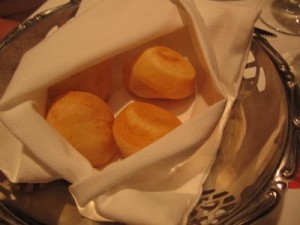 This is the Brazillian cheese bread Fogo de Chão serves when you are seated.  (Their polenta was wonderful also)  I haven't tried it yet and need to cut down the serving size.  Thanks to Melo for finding the recipe online.
Fogo de Chão Cheese Bread Recipe:  "Pao de Queijo"
1 egg
2 TBSP corn oil
1/3 cup whole milk
Dash of salt
1/3 cup sour tapioca flour (azedo)
1/4 cup sweet tapioca flour (doce)
1/4 cup shredded parmesan cheese
Preheat oven to 425 degrees. Combine all ingredients in a large bowl. Mix well until batter is smooth. Lightly grease a 12- or 24-cup mini-muffin pan or small dariole molds.  Fill each muffin cup three-quarters full. Bake for 15 minutes or until golden brown.  Breads should be crisp on the outside and hollow on the inside, like a popover. Serve warm. Makes 12 – 15 puffs.  Sweet and sour tapioca flour can be found at Brazilian food stores.
Alternate method with sourdough starter.  Since I always have a cauldron of sour flour at the house, I'd like to skip the hunting/purchasing/storing of specialty tapioca flours.  This is a work in process, so experiment at your own risk.
1 egg
1 TBSP sugar
2 TBSP corn oil
1 TSP salt
1/3 cup whole milk
1/3 cup starter
2/3 cup bread flour
1/2 cup shredded parmesan cheese